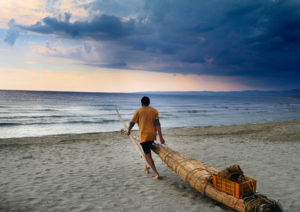 "The Swarm" – It's a Wrap!
The final shot of the international ZDF co-production "The Swarm" has been taken at the end of September. The filming in Rome and Brussels of the eight-part thriller series directed by Barbara Eder, Philipp Stölzl and Luke Watson has successfully been wrapped.
First pictures from the shooting, which are now available, offer a look into the elaborate film adaptation of Frank Schätzing's world bestseller of the same name.
"The Swarm" is more topical than ever due to its highly relevant topic: An international cast now brings the successful novel to life with a modernised interpretation that places the fears and hopes of young generations at the centre of the adaptation. The well-known storylines of the book have been supplemented and updated by showrunner Frank Doelger ("Game of Thrones") and Frank Schätzing:
Leonie Benesch plays marine biology student Charlie Wagner, who collects sea current data for her professor Katherina Lehmann (Barbara Sukowa) on the Shetland Islands. Alexander Karim stars as the famous novel character Sigur Johanson, who is asked to do a biological survey for a Norwegian oil company and discovers the dangerous ice worm alongside Tina Lund (Krista Kosonen). While French molecular biologist Cécile Roche (Cécile de France) struggles with a deadly bacterium in drinking water, Canadian whale researcher Leon Anawak (Joshua Odjick) tries to explain the whales' unusually dangerous behaviour. The international team of researchers is complemented by data analyst Alicia Delaware (Rosabell Laurenti Sellers), space explorer Samantha Crowe (Sharon Duncan-Brewster) as well as student Amir (Eidin Jalali) and Japanese philanthropist Mifune (Takuya Kimura). Alban (Oliver Masucci), captain of the technically highly experienced research vessel Thorvaldson, and the diving robotics expert Roscovitz (Klaas Heufer-Umlauf) embark on a daring mission into the eternal ice together with the scientists.
The production for the large-scale international project began in May 2021. Outdoor locations were shot in Lazio, Veneto and Puglia. After the completion of the main shooting in the Tiburtina Studios in Rome, filming took place in Europe's largest water studio in Brussels until the end of September.
The series is being produced as an international co-production under the leadership of ZDF as part of the European Alliance together with France Télévisions, Rai, ORF, SRF, Scandinavia's Nordic Entertainment Group and Hulu Japan. "The Swarm" is produced by Schwarm TV Productions GmbH & Co. KG, a joint venture of Intaglio Films GmbH, Frank Doelger, and ndF: International Production GmbH, Eric Welbers.
presseportal.zdf.de/pressemitteilung/mitteilung/der-schwarm-drehstart-fuer-internationale-zdf-koproduktion/
#TheSwarmIsComing
The photo is available from ZDF Press and Information, telephone: +49 (0)6131-70-16100, and from https://presseportal.zdf.de/presse/derschwarm.